Certification
The integrated management system of E. Krieg GmbH is certified according to IATF 16949, ISO 9001, EN 9100 and EMAS.
E. Krieg GmbH stands for highest precision and quality which we are able to guarantee by undergoing regular quality audits.
Our policy and processes are based on international standards, customer requirements, our knowledge and experience. Our suppliers contribute significantly to the quality of our services. We therefore place the same quality demands on our suppliers as we do on ourselves.
We strive to strengthen and further expand our market position through quality-conscious actions in all departments.
We ensure constant improvement and dissemination of our quality awareness internally and externally and will adapt to the permanently growing and changing requirements.
Our benchmarks for success result from the satisfaction of our customers coupled with the performance of our company.
IATF 16949
The IATF 16949 was developed and published as a technical specification based on EN ISO 9001 with the aim of avoiding elaborate multiple certifications.
It unites the requirements of numerous quality management systems and is recognised by car manufacturers worldwide as an important sector standard.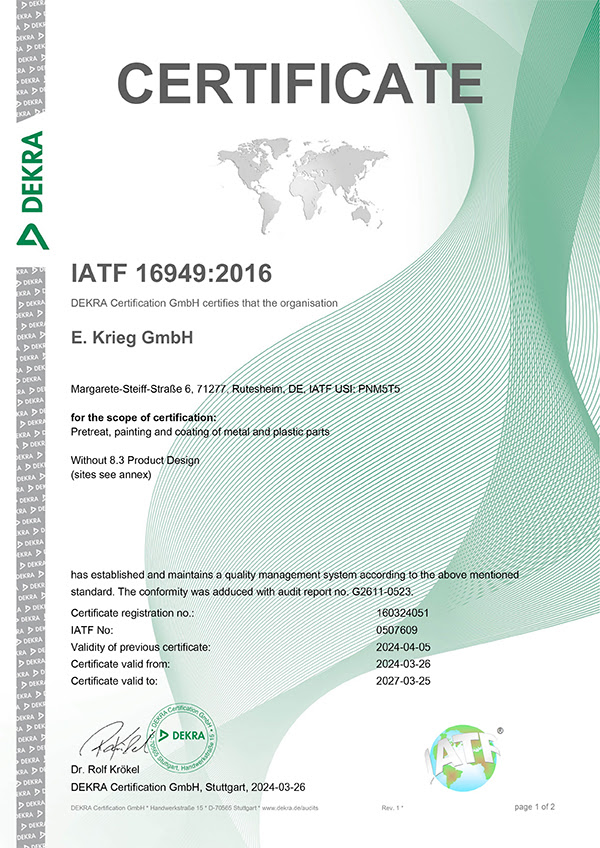 ISO 9001
Quality management according to EN ISO 9001 provides the basis for customer-oriented performance of a company which complies with statutory requirements.
A certified organisation makes use of the following operating principles:
Customer orientation
management responsibility
inclusion of the affected people
process orientated approach
system orientated management approach
continuous improvement
decision-making approach
supplier relationships for mutual benefit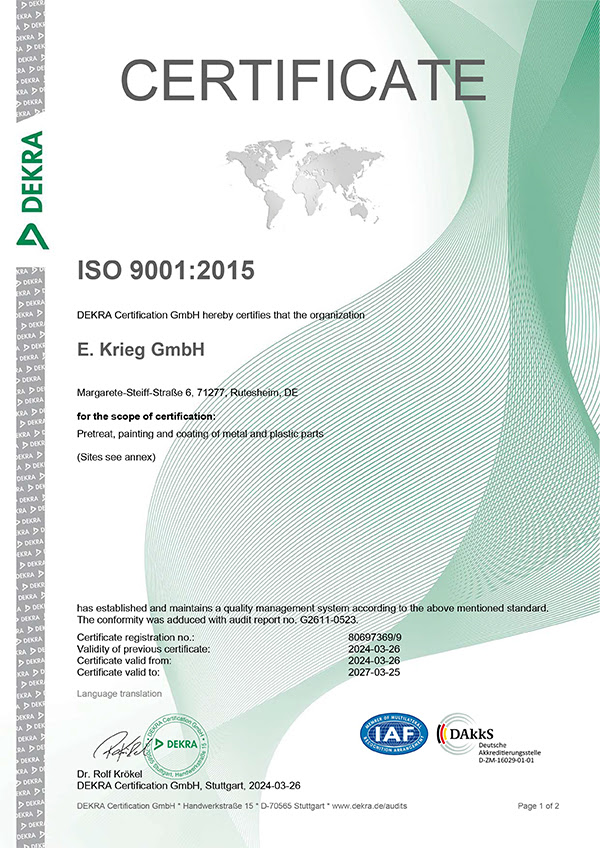 EN 9100
The European system standard EN 9100 provides the framework of a quality management system for companies in the aviation, aerospace and defense industries based on the general quality management standard ISO 9001. Key points of EN 9100 include:
configuration management
product safety
Dealing with fake parts
risk management
Environmental management system according to EMAS
E. Krieg GmbH has an implemented, validated environmental management system according to Eco- Management and Audit Scheme and EN ISO 14001:2004 section 4 (also known as EU-Eco-Audit or Eco-Audit).
We introduced EMAS as an environmental management system, and you can access our registration certificate at the following link. Would you like to see our environmental statement? Please get in touch with us via contact us.
E. Krieg GmbH EMAS-Registration number D-261-00055